The Bar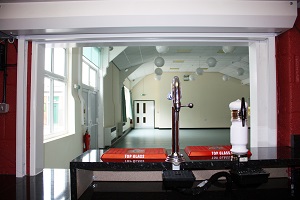 Viables has a purpose built bar available to when booking either The Barn or the Four Lanes Room and is run by a trusted team of people who operate under the Viables Community Centre license.

Please note that parties with a bar in the Four Lanes Room require a minimum of 50 adults.
There is beer or tap (draught beer is only available in The Barn) as well as bottled and canned drinks and a range of optics to choose from. The bar is run as a cash only service.
If you have booked the bar for your party, the bar manager will call in advance of your booking to make sure they have the correct amount of staff serving at the bar and will ask if there is anything in particular you would like them to stock for you.
We do allow people to bring along a toasting drink of their own, but a customary corkage fee will be charged by the bar manager. Alternatively the Bar Manager can source and serve toasting drinks if you prefer. Otherwise alcohol cannot be bought on to the site. Permission must be sought from the Association on ALL occasions.